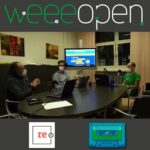 WEEE Talk torna con una nuova puntata!
Con Antonio ed Alessandro ci confrontiamo sul tema caldissimo del Right to Repair. Partendo da quanto le riparazioni siano intrecciate con il tessuto sociale cittadino, tra manuali d'istruzioni, Nokia 3310 e gli arcinoti prodotti della Mela, forniamo spunti di riflessione e riferimenti per chi vuole approfondire la questione.
---
Gli sportelli attivi:
Il martedì dalle 15:00 alle 17:00 al restart cafè degli artigianelli in corso Palestro 14 su prenotazione compilando il form e attendendo risposta dagli artigianelli digitali
Il mercoledì dalle 18:00 alle 20:00 presso casa del quartiere al primo piano in via Morgari 14 su prenotazione scrivendo a officina@informaticalibera.info offerto da OIL
Artigiani Digitali:
---
FONTI
ASSOCIAZIONI
Restarters Torino:
Restarters IT:
Restarters:
Right to Repair EU:
Indice di riparabilità (Francia):
Repair Preservation Group (Rossman): https://fighttorepair.org/
Altri Spunti: Framework laptop, Pine, Librem, System 76..
Grazie ancora ad Antonio per questa bella chiaccherata:
Associazione Culturale Soluzioni InformEtiche: https://www.sie.cloud/chi-siamo/
Dove trovare noi di WEEE Open:
– Sito: https://weee.link/us
– Facebook: https://weee.link/fb
– Instagram: https://weee.link/ig
– LinkedIn: https://weee.link/in
– YouTube: https://weee.link/yt